HAWAIIAN KANPACHI CEVICHE WITH CRUSTY BREAD
**FEATURED RECIPE** BY CHEF KIKI ARANITA: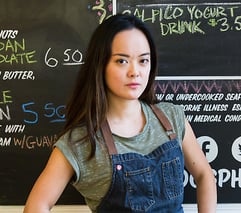 (Photo credit: Caroline Hatchett,Starchefs)
This recipe combines delicate, mild kanpachi with citrus and crisp seasonal vegetables. A twist on a traditional ceviche, the lemon and lime are balanced with the sweetness of orange and the whole dish is brightened by fresh dill. This ceviche is served over thin, toasted slices of multigrain bread, but feel free to substitute crackers or tortilla chips.


1 lb Hawaiian Kanpachi fillets, cut into 1/2-inch cubes
1/2 cup fresh orange juice
1/4 cup fresh lemon juice
1/4 cup fresh lime juice
1/3 small red onion, thinly sliced
8 oz small cherry tomatoes, halved
1 Persian cucumber thinly sliced
1 jalapeño, seeds and ribs removed, minced
2 tbsp chopped fresh dill
1 tsp fine sea salt
1 small multigrain batard or baguette, sliced and toasted
Place the fish cubes in a single layer in a shallow dish that has a lid. Stir together the orange juice, lemon juice and lime juice in a small bowl. Reserve 2 tablespoons of the juices and set aside. Pour the remaining juice over the fish. Stir gently to coat each piece.
Cover the container with the lid and refrigerate. Kanpachi is sushi grade. You can marinate the fish in the juices for 30 minutes for rare fish or up to 3 hours for fully cooked fish, according to your preferences. Stir the fish 2 to 3 times while it's in the refrigerator to ensure the juices are evenly distributed.
While the fish marinates and cooks in the citrus juice, place the sliced onion in a small bowl of ice water. Place it in the refrigerator until you are ready to assemble the ceviche.
When the fish is ready, strain it and discard the juices. Transfer it to a large bowl. Drain and discard the water from the onions and add the onions to the bowl. Add the cherry tomatoes, cucumber, jalapeno, and dill. Pour in the 2 tablespoons of reserved juice.
Stir the ceviche. Sprinkle with the salt and stir again to mix all ingredients. It's best served right away with toasted slices of bread on the side, but can be refrigerated until ready to serve, for up to 2 days.