HAWAIIAN KANPACHI POISSON CRU
**FEATURED RECIPE** BY CHEF KIKI ARANITA: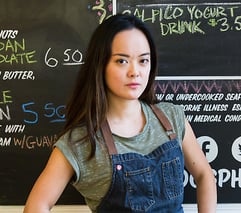 (Photo credit: Caroline Hatchett,Starchefs)
"My husband and I recently honeymooned in Tahiti. It probably was the happiest time of my life, and I wanted to celebrate that unforgettable experience with this dish. I grew up in Hawaii and was greatly influenced by Tahitian culture and food, but never visited until recently. I'm combining the influences of both places with this special dish for you." - Chef Kiki Aranita


All ingredients should be room temperature:
2 oz Hawaiian Kanpachi
White sweet potato, steamed with skin on (if it's not too thick! Or else peel them), 100g
Coconut milk, 100g
Grapefruit hibiscus kombucha vinegar (or any light, mild and effervescent vinegar – lighter than apple cider vinegar) – I'm using Baba's Acid Trip, 35g
Optional: 1g Maui Lavender Ponzu
Hawaiian red clay (alaea) sea salt to taste
Garnish
Gamtae seaweed strands
Okinawan sea grapes, 1-2 strands per portion
Perilla Oil to finish
Chili Peppah Water to taste
Slice Hawaiian Kanpachi sashimi-style to about 1 cm thickness. Combine all ingredients (except for garnish ingredients) in Vitamix and blend until very smooth. Spread coconut milk mixture on plate and lay sashimi slices over it. Finish with a few drops of perilla oil, decorate with sea grapes and gamtae and use Chili Peppah Water to taste.