FILET RECIPES
FILLETING HAWAIIAN KANPACHI
Fennel Crusted and Baked Hawaiian Kanpachi
Watch a video of Chef Paley: Instructions on filleting
RECIPE:
Fennel Crusted and Baked Hawaiian Kanpachi:
Olives, Cherry Tomatoes and Quick-Preserved lemon
The versatility of Hawaiian Kanpachi is apparent in this dish as it adopts well to the Mediterranean style preparation.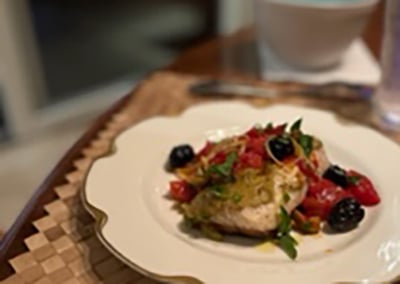 This can be a dish to impress with minimal skill or effort but will allow you to show off your technical prowess in the kitchen without venturing too far out of your comfort zone.
Once you make the fennel puree and spread it on the fish, the rest is easy. A well-used, or "broken in" nonstick pan and a calibrated oven is all you need to show-off your skills.
If you decide to individually plate your Hawaiian Kanpachi, it becomes an instant main course to a special meal. If you platter it whole, it will be right at home alongside a crisp green salad and grilled vegetables perhaps. Enjoy it outdoors with friends on a warm summer evening with a chilled glass of rose and they will praise your mastery, I promise.
Fennel Crusted and Baked Center Cut Loin: Serves 4
1 small, sweet onion - peeled and coarsely diced
1 fennel bulb - washed trimmed, cored, and coarsely diced
½ cup Extra Virgin Olive Oil plus more for finishing
4 cloves garlic - sliced thin
4 anchovy filets
4 sprigs thyme - picked and chopped
Zest of ½ lemon
Juice of ½ lemon
Kosher sea salt and freshly ground black pepper
1 teaspoon dry oregano
1 pound center cut Kanpachi loin filet
1/4 cup pitted Niçoise or Kalamata Olives
1/3 cup cherry tomatoes - cut in half
Quick preserved lemon peel (recipe follows)
Several leaves of basil - hand torn for garnish
2 scallions - sliced thin
To make the fennel crust, place the sliced onion and fennel into a medium size sauté pan. Pour in a ¼ cup olive oil and over medium low heat cook stirring frequently until tender with no coloration, about 15 minutes. Add garlic, anchovies, thyme, zest, and juice of lemon. Generously season with salt and pepper and cook stirring for another 5 minutes. Transfer the cooked ingredients into a food processor and blitz the mixture is finely pureed.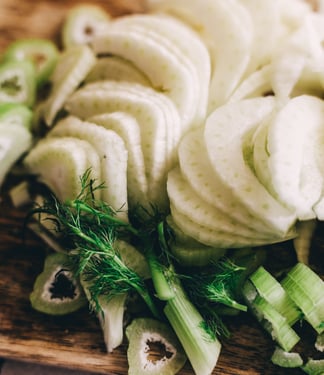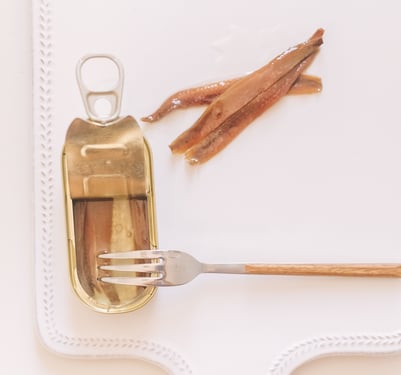 Scrape the mixture out into a bowl to cool completely before spreading on top of the fish. If not using right away, transfer into or a container with lid and refrigerate. The fennel mixture will last refrigerated for up to 3 days.
For baking your fish: Preheat the oven to 400 F. Slice the fillet into 4 equal portions or keep it whole for family-style presentation. Season the fish with salt and pepper on both sides. When cooking the loin whole, place the loin on a cutting board and spoon the fennel mixture in the center of the filet. Using a small off set spatula or butter knife, spread the mixture evenly across the top, edge to edge. If working with individual servings, split the mixture into 4 equal portions and repeat the process 4 times.
Place an oven proof nonstick skillet on the stove, add the remaining olive oil, turn the heat on high and heat up until the oil shimmers, 2 to 3 minutes. Add the Hawaiian Kanpachi, crust side up into the pan and cook undisturbed until the fish browns lightly around the edges. Carefully transfer the pan into the oven and bake your fish until it is fully cooked, about 10 minutes. Using oven proof mitts, take the pan out and place olives and tomatoes all around the fish. Place the pan back into the oven and cook until tomatoes begin to release juices, about 5 more minutes.
Transfer the cooked kanpachi onto the plates or platter if cooked whole, spoon the tomato and olive mixture throughout, garnish with preserved lemon, basil and chopped green onion, drizzle with more olive oil and serve immediately.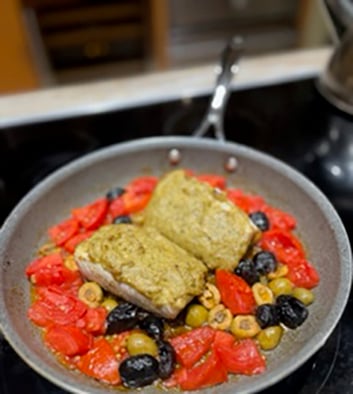 Quick Preserved Lemon Peel
The conventional way of preserving lemons can be time consuming. I devised this quick and easy alternative.
1 lemon washed and dried.
Juice of 1/2 lemon
1/2 teaspoon kosher salt
1/2 teaspoon granulated sugar
Remove the peel from the lemon then cut into julienne strips. Blanch the peel in a small pot, adding enough cold water to cover the peel. Drain and repeat the process two more times.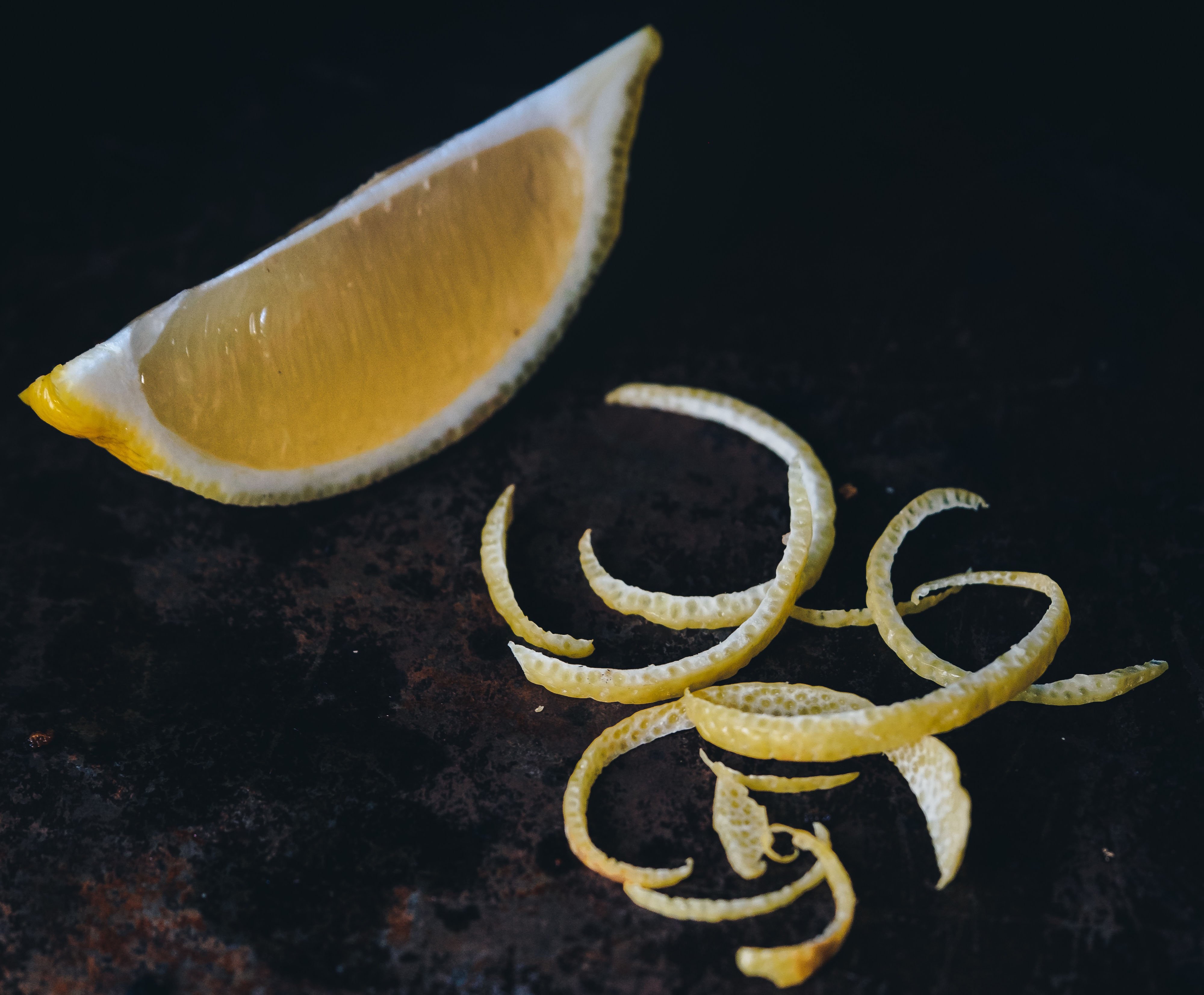 Juice the lemon and strain into a small bowl adding salt and sugar. Add the blanched peel, and let it macerate at room temperature for 1 hour allowing the flavors to marry. Store refrigerated in a tightly sealed plastic container. The lemon can be prepared up to two days in advance.
Hawaiian Kanpachi Chowder
Makes 4 to 6 servings.
When you read through the ingredients, you will notice there is no salt added. It is because I use miso instead to season the soup. Also, this recipe calls for homemade Kanpachi fish stock that gets seasoned as it cooks. If you choose to substitute with store bought fish broth or clam juice, taste for seasoning as you cook this chowder. You may need to adjust to your liking with salt. If you are not able to find crème fraiche which adds a bit more of richness and acid balance to the dish, feel free to use the heavy cream alone and double the amount. Just add a squeeze of lemon at the end if you prefer.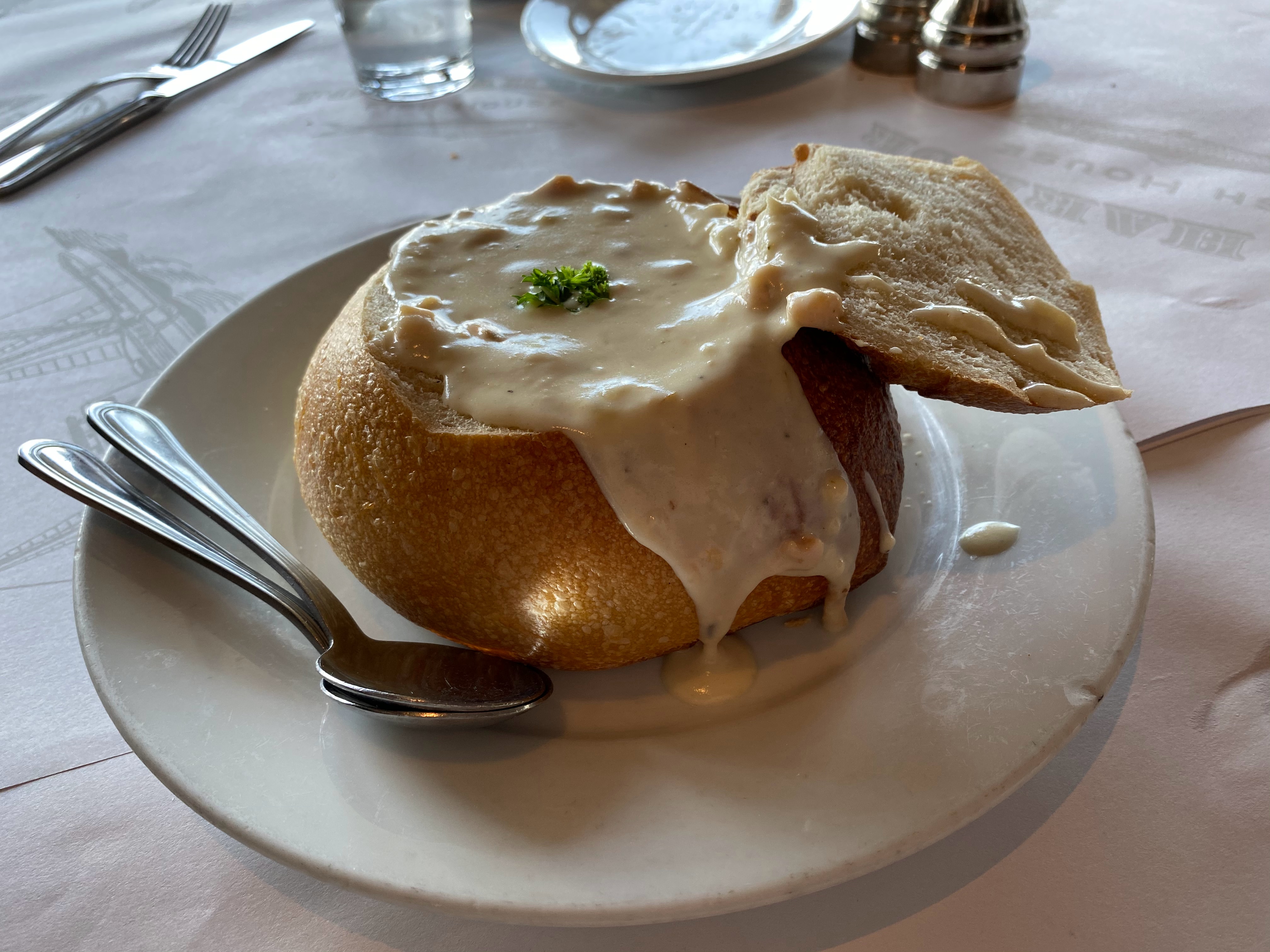 Ingredients:
2 tablespoons olive oil
4 ounces smoked bacon, about 4 thick slices, cut into ¼ inch lardons.
2 leeks, white and light green only, sliced into quarters lengthwise, washed, dried, and cut into ½ inch squares.
3 celery stalks, washed, dried, and diced into quarter inch pieces.
2 small fennel bulbs, washed and diced into quarter inch pieces.
6 tablespoons white miso
1 cup white wine
1-pound gold Yukon potatoes, diced into half inch pieces.
4 sprigs of fresh thyme
3 dry bay leaves
1/2 cup heavy cream
1 cup crème fraiche
1-pound skinless, boneless Hawaiian Kanpachi filet, cut into 1-inch pieces.
Freshly ground black pepper
½ bunch scallions, trimmed, washed, dried, and thinly sliced
Goldfish crackers for garnish
In a large Dutch oven or a 6-quart soup pot, heat olive oil over medium heat. Add bacon and cook, stirring occasionally, until golden all over, about 5 minutes. Push the bacon to the edges of the pot to create a circle. Add the leeks, celery, and fennel into the middle of the pot. Cook, stirring just the vegetables as best as you can for about 3 minutes, add the miso and continue cooking, stirring, and mixing all together with bacon until well incorporated, another 3 minutes. Add the wine, fish stock, thyme sprigs and bay leaves. Turn up the heat to high and bring to a boil stirring and scraping the bottom of the pot to release all the brown bits that might have formed there, about 10 minutes. Reduce the heat to medium, add potatoes, cover, and cook until potatoes are tender, about 15 minutes.
Stir in the cream and crème fraiche then bring back to simmer, about 5 minutes. Add Kanpachi pieces and cook until the fish is just cooked through, about 5 minutes. Discard bay leaves and thyme sprigs. Divide chowder in bowls, give a healthy grind of black pepper into each bowl, garnish with sliced scallions and goldfish crackers. Serve immediately.